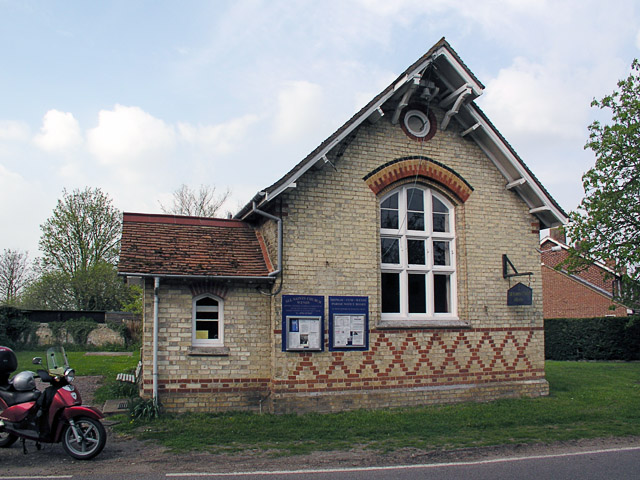 The former medieval parish church was probably built in the 12th century, extensively rebuilt in the 16th century by the preceptory of Shingay, and dedicated to St Mary and later All Saints. It is listed as having a steeple.
By the 17th and 18th century was in a ruinous state and in 1734 was demolished and a new church, only 45 feet in length with a western bell turret, was completed by 1737. By the 1860s the church was deemed unsafe for use and a nearby barn was dedicated for services. The church was again demolished and a new church opened on the same site in 1866.
The 19th century church was built in the Early English style with a chancel and south vestry, a three-bay nave with a western bell turret, and a west porch. The double hammer-beam roof over the nave was taken from the recently dismantled church of All Saints in the Jewry that stood opposite Trinity College in Cambridge.
Once again the church's foundations proved insufficient and extensive cracks after the Second World War led to its demolition in around 1950.
Until 1972 services were held in the mission church at Shingay, after which the old school in Wendy was consecrated as a church, and still serves as All Saints Church.
A more detailed history of the church can be found here: https://www.british-history.ac.uk/vch/cambs/vol8/pp135-142